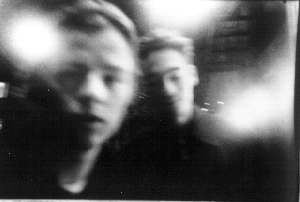 The Butterflies of Love
The butterflies of love are a band from New Haven CT. USA, featuring divinity school graduate and justice of the peace Daniel Greene, his nomadic friend Jeffrey Greene, audio-visual electrician Scott Amore, Iron-On expert Peter Jackson Whitney, and art recycler Neil O'Brien. They write, record, and perform pop songs.
They hope to hypnotize as many people as possible.
---
discography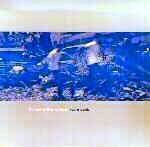 rob a bank / love may be possible - 7" on coffeehouse records - usa

rob a bank / drunken falls - 7" on fortuna pop! - uk

wild / the brain service - 7" on secret 7 records - usa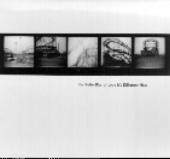 it's different now / I'll never be long gone - 7" on fortuna pop! - uk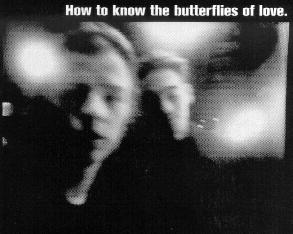 How to know the butterflies of love.
mt. everest / serious / horrible / wild / floating / love may be possible / rob a bank / shame / amethyst / assassins / swollen eyes / leaving when i'm done drinking
CD - on SECRET 7 RECORDS
LP - on Fortuna Pop!
Brand new smash hit full length CD/LP available in the USA Valentine's Day 2000.
After a complex series of events, Secret 7 Records is proud to announce the release of this truly great record. Several years in the making and several more before seeing the light of day, "How to know the butterflies of love." is a verifiable smash. New Haven, CT residents Daniel and Jeffrey Greene (no relation) sing a dozen sad but hopeful songs in a densely layered wash of alcohol, guitars, organs, and impeccable background vocals. Produced by rock and roll legends Mike Arafeh (Coffeehouse Records & Studio) and Mark Mulcahy (Miracle Legion, Polaris), these recordings document one of the great moments in the studied history of this soon to be legendary group. Released in the U.K. this past fall to a tidal wave of rave reviews, sold out pressings, and subsequent John Peel BBC sessions, "How to know the butterflies of love." has proven to be a record worthy of your attention.
Daniel and Jeffrey, now accompanied by Scott Amore and Peter Whitney (both ex-Names for Pebbles) and Neil O'Brien (ex-The Van Pelt) plan to release a series of similarly incredible records in the coming year.
"They are the tallest, skinniest band in America. They are also the best new band in America."
- Melody Maker, UK
all records above produced by Mike Arafeh & Mark Mulcahy
photography - Michael Ackerman
Coming in April:
wintertime queen / complicated - 7" & CD on Fortuna Pop! - uk
produced by Michael Demming (Apples in Stereo, Lily's)
**************
TOUR DATES:
March:
Tues 28th - Brownies NYC 8:45pm
Fri 31st - Maxwell's Hoboken NJ with Mary Timony (Helium) and Gorky's Zygotic Mynci - 9:30 pm

April:
Sat 1st - Secret Theater New London CT March:
Sat 15 Notting Hill Arts Centre, London. 4pm - 8pm, Entrance FREE, with
Airport Girl and The Chemistry Experiment. (A Rough Trade RoTa gig)
Sun 16 Acoustic show at the Betsey Trotwood, London. Possibly with Miles
from Beulah.
Mon 17 The Victoria, Derby with Cato, Kaito and Airport Girl.
Wed 19 Jug of Ale, Birmingham with The Chemistry Experiment and The Regulars.
Thu 20 Moles Club, Bath with Airport Girl and The Chemistry Experiment.
Sat 22 Bull and Gate, London with Comet Gain and The Chemistry Experiment.
Sun 23 Water Rats, London. Track and Field Alldayer with Airport Girl,
Kicker, Tom Paulin, I am Kloot, and either Brassy or Beulah (tbc)
Tue 25 The Eygpt Cottage, Newcastle with Airport Girl and Milky Wimpshake.
Wed 26 13th Note Cafe, Glasgow with Airport Girl + 1 other.
Thu 27 Josephs Well, Leeds with Airport Girl and The Static Waves.
Fri 28 The Grapes, Sheffield with Airport Girl and Big Eyes.
Sat 29 The Boat Club, Nottingham with Airport Girl and The Chemistry
Experiment.

*********************************
the band as we know it today:
Daniel Greene: singing, guitar, background singing, xylophone
Jeffrey Greene: singing, guitar, piano, chord organ, xylophone
Scott Amore: rhodes, moog, hammond, rivet cymbal, plastic tube
Peter Jackson Whitney: electric bass, electone
Neil O'Brien: drums
*******************************************
contact: The Butterflies Of Love - PO Box 8501, New Haven, CT 06537
management: Chris Rasmussen & Tom Sladek - Secret Seven Management
PO Box 320777, Fairfield, CT 06432, USA, Earth
telephone - 203-777-7967
email - shop@secretsounds.com
Publicity - USA Steve ~ s7publicity@hotmail.com ~ phone 917-494-7059
- UK Karen ~ razzlepr@aol.com ~ phone 171-430-0444
******************************************
also check out:
the positive negative men:
www.netcolony.com/members/posnegmen/index.html
Mark Mulcahy's website:
*******